The Studio will be closed until Oct. 4.

All orders will be shipped after Oct.4. Sorry for any inconvenience.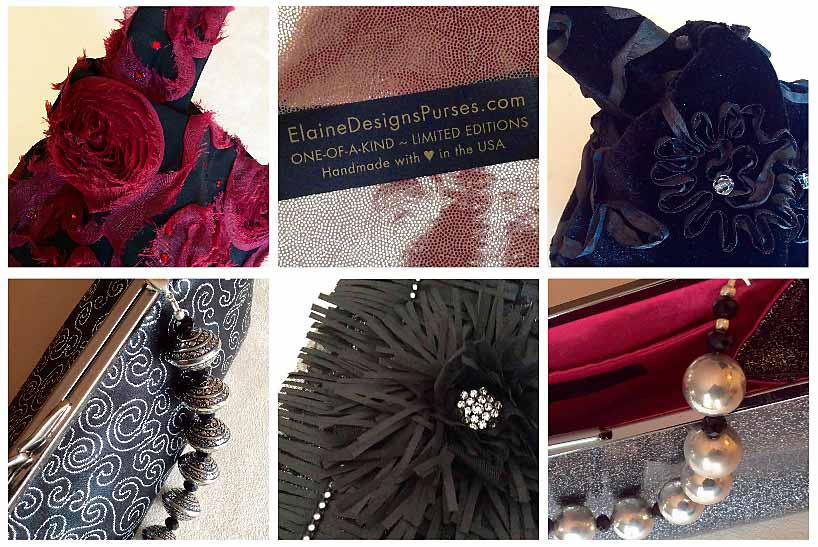 Style is what you choose
– L A U R E N  H U T T O N
What's Your Signature Style?
Playful, quirky, architectural, geometric, bold patterns, graphic, classic, fashionista, vintage, boho, sparkling, bling, eclectic, elegant, sophisticated, artistic or contempo?
The Contempo Wristlet
– Travel light (only weighs a few ounces, packs flat)
– Holds all the essentials plus!
– Enjoy your cocktail / hors d'oeuvres hands free
– Perfect dance partner
– Your stylish expression
– Limited editions
Style is a way to say who you are without having to speak
– R A C H E L   Z O E
The Convertible Clutch
– Carry as a clutch OR wear the bracelet strap
– Holds all the essentials plus!
– Enjoy your cocktail / hors d'oeuvres hands free wearing bracelet strap
– Add a longer strap for a swinging dance partner
– Your stylish expression
– Limited editions & One-Of-A-Kind
To change a work outfit to an evening one, I trade my big bag for a clutch
– J E N N I N E   H A N N A W A Y,  R e v l o n

The Designer Purse
– Stylish purses that reflect you
– Embellished with beads, pearls, crystals
– Custom design for your special occasion
– Lace dust cover, unique gift
– Limited editions & One-Of-A-Kind
Fashion fades, style is eternal

– Y V E S   S T .  L A U R E N T